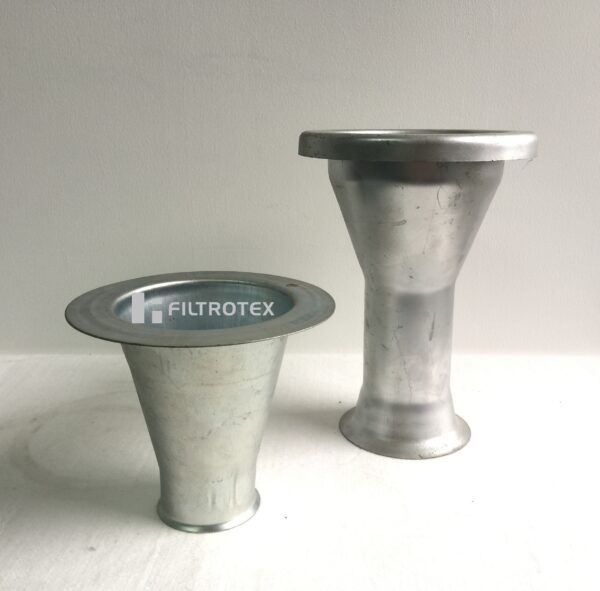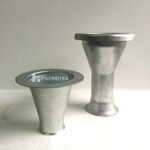 VENTURI
The Venturi effect is the reduction in fluid or air pressure that results when a fluid or air flows through a constricted section of filter bag.
Our venturi's materials can be Aluminum, Conjoined, Conventional, Louvered and Stainless Steel.
Description
We have 5 materials of Venturi can be chosen and differents types
1.Stainless steel venturi
Bag cage venturi can achieve the delivery of powder airflow, mainly using its fire-suction effect . Efficient and filter iron venturi generally used for dust skeleton, the cartridge , which generally use 1.2 mm thick steel plate forming a stretch production.It is characterized by smooth and beautiful appearance , stable and reliable quality , effectively improve the service life of the bag.

| | | | | | | |
| --- | --- | --- | --- | --- | --- | --- |
| Types | D1(mm) | D2(mm) | D3(mm) | H(mm) | T(mm) | Materials |
| Ø105 | Ø105 | Ø165 | Ø60 | 155 | 1.4 | Stainless steel |
| Ø105 | Ø105 | Ø145 | Ø60 | 155 | 1.4 | Stainless steel |
| Ø95 | Ø95 | Ø190 | Ø75 | 180 | 1.4 | Stainless steel |
2.conventional venturi

| | | | | | | |
| --- | --- | --- | --- | --- | --- | --- |
| Types | D1(mm) | D2(mm) | D3(mm) | H(mm) | T(mm) | Materials |
| Ø105 | Ø105 | Ø165 | Ø80 | 128 | 1.2 | Galvanized sheet, Carbon steel |
| Ø105 | Ø105 | Ø165 | Ø57 | 150 | 1.2 | Galvanized sheet, Carbon steel |
| Ø105 | Ø105 | Ø145 | Ø80 | 128 | 1.2 | Galvanized sheet, Carbon steel |
| Ø105 | Ø105 | Ø145 | Ø57 | 155 | 1.2 | Galvanized sheet, Carbon steel |
3.The aluminum venturi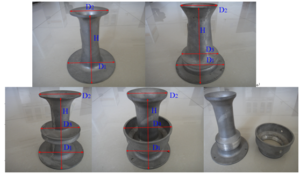 | | | | | | |
| --- | --- | --- | --- | --- | --- |
| Types |  D1(mm) |  D2(mm) |  D3(mm) |  H(mm) |  T(mm) |
| Ø180XØ100 | Ø180 | Ø100 | | 190 | 4.5 |
| Ø180XØ90 | Ø180 | Ø90 | | 160 | 4 |
| Ø155XØ95 | Ø155 | Ø95 | | 190 | 4 |
| Ø150XØ90 | Ø150 | Ø90 | | 160 | 4 |
| Ø153XØ87 | Ø153 | Ø87 | Ø130 | 190 | 4 |
| Ø150XØ80 | Ø150 | Ø80 | Ø110 | 165 | 4 |
| Ø150XØ95 | Ø150 | Ø95 | Ø110 | 190 | 4 |
4.Conjoined venturi

| | | | | | | |
| --- | --- | --- | --- | --- | --- | --- |
| Types | D1(mm) | D2(mm) | D3(mm) | H(mm) | T(mm) | Materials |
| Ø105 | Ø105 | Ø145 | Ø77 | 135 | 1.2 | Galvanized sheet, Carbon steel |
| Ø140 | Ø140 | Ø185 | Ø100 | 155 | 1.2 | Galvanized sheet, Carbon steel |
| Ø144 | Ø144 | Ø190 | Ø130 | 135 | 1.2 | Galvanized sheet, Carbon steel |
| Ø144 | Ø144 | Ø190 | Ø120 | 135 | 1.2 | Galvanized sheet, Carbon steel |
| Ø144 | Ø144 | Ø190 | Ø100 | 155 | 1.2 | Galvanized sheet, Carbon steel |
| Ø144 | Ø144 | Ø185 | Ø100 | 160 | 1.2 | Galvanized sheet, Carbon steel |
| Ø150 | Ø150 | Ø200 | Ø120 | 155 | 1.2 | Galvanized sheet, Carbon steel |
5.Louvered venturi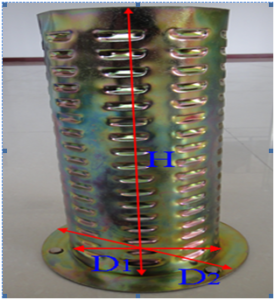 | | | | | | |
| --- | --- | --- | --- | --- | --- |
| Types | D1(mm) | D2(mm) | H(mm) | T(mm) | Materials |
| Ø175XØ125 | Ø125 | Ø175 | 300 | 1.2 | Galvanized sheet, Carbon steel |
| Ø175XØ130 | Ø130 | Ø175 | 200 | 1.2 | Galvanized sheet, Carbon steel |